Boxing or plating, introduced in Gearotic as an essential tool to finalize a project. The concept is relatively simple, allow users to build a box around their gear assembly, while keeping track of shaft holes and placement items per plane or box side. This allows a project to all fit and work as one assembly and all together. Boxing joiner edges also work well to fit edges snuggly together and align perfectly.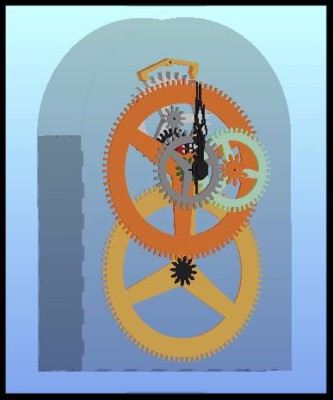 Example boxing of a gear train
Boxing in Gearotic CAD, is a simple to use config menu, which basically bundles it all up. It allows easy manipulations of specifics inputs, such as box size, and your X, Y, and Z co-ordinates for all pieces or side making up this box.  
Gearotic, being a 3D generator at most things it makes, also allows for multi direction shafts pointing and in any direction, so the boxing routine solve this enclosure issue, and generates a box appropriate to fit. The idea all came about when we wanted to build a box around our project, with tabs to lock it all together, yet keeping shaft holes proper to the plane and direction, to ease up with assembly and re-assembly.  Solution was a series of enables check boxes to create any of the six possible plates which worked out well. We also added arches, should the user be building a clock or a similar item needing an arch. 
 Boxes may be constructed using tabs to interlock box together, or you can select "no tabs" for straight edges. Interlock tabs can help and ease up with assembly and re-assembly of some projects, why including them was important. We've also included the arch top capability should users want to enhance the box shape in design with an arch. End results, boxes include all sides, with appropriate shaft holes per plane, all the parts necessary to easily assemble or dis-assemble your project.